Katsuya Murashige
Katsuya Murashige
Katsuya Murashige was originally from Kobe. He fell in love with the outdoors during his time as a Boy Scout in his younger years. Even after growing up, he frequently went to Hokkaido with his children to go camping. He professes that while he was living in Kobe, his heart was always in Hokkaido, so he didn't have any trouble adjusting when he finally moved for good.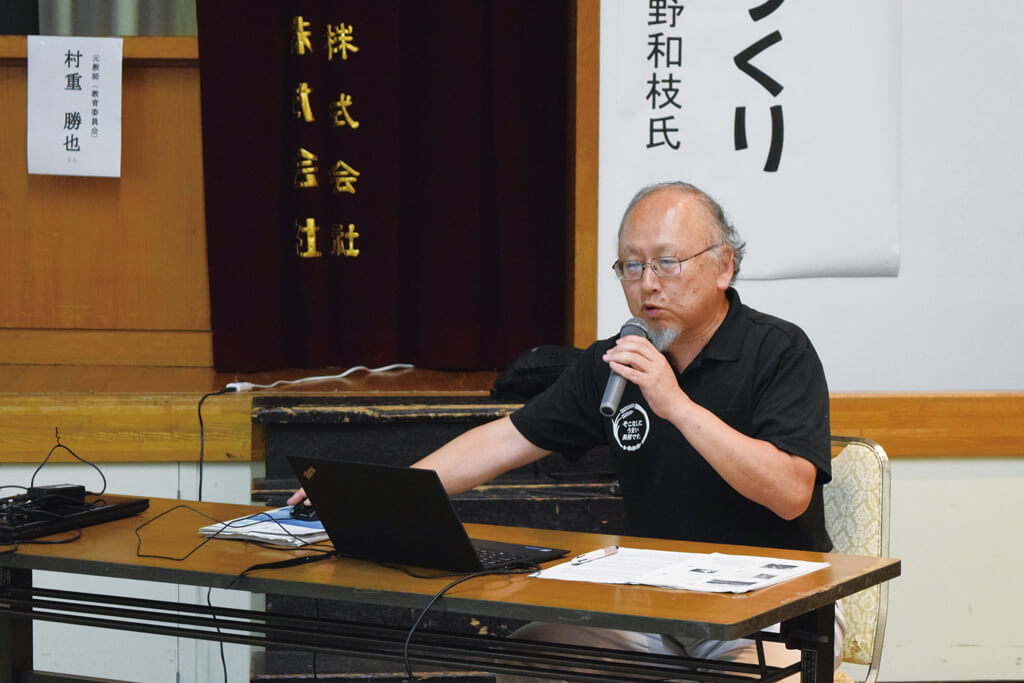 He fell in love with Hokkaido the day he boarded the Seikan Ferry
Katsuya Murashige moved to Naganuma Town in April 2016, when he was 57 years old. He had been working as a school teacher in Kobe for many years when he decided to resign and apply for a position in the Naganuma Town Office. His first time in Hokkaido was during his Boy Scout years, when he joined a camp held in Chitose City. It is a memory he cherishes deeply, and he relates how he fell in love with the Hokkaido landscape after the trip across the Tsugaru Strait on the Seikan Ferry. He talks of his love for Hokkaido like someone reminiscing about an old flame. Even after getting married and having children, he always had a special place in his heart for Hokkaido, and it eventually became a clear desire to move to the island. At first, he thought about moving after reaching the retirement age of 60, but he ended up retiring 3 years early to move to Hokkaido together with his wife and daughter.
It was by chance that Naganuma came into consideration for their new residence. Murashige-san knew he needed to find employment in the new place, so he tried searching job hunting sites, and came upon a job posting for a "Social Education Instructor" in the Naganuma Town Office. The position was part of a department that handled lifelong education for children and seniors. Having already been a high school teacher for many years, Murashige-san wanted to try something other than education, so after consulting with the town office, he was offered a position in the town's Regional Revitalization Cooperation Corps. What he found most attractive in this job was that it would help him prepare starting his own business, and it would also allow him to get to know many of the townsfolk.
Murashige-san stands with a cherry blossom tree in his home garden. Tending his garden and growing his own crops are some of his daily passions.
He wants to help resolve unforeseen difficulties in life
Some of Murashige-san's duties as a member of the Regional Revitalization Cooperation Corps included managing the Hosei Daigaku which offered lectures and study groups for seniors, as well as doing interviews of local residents for the town paper. After finishing his 3-year term in the spring of 2019, he finally decided to become a Social Education Instructor, a job where he also handled after-school programs for children.
During his years as a high school teacher in Kobe, Murashige-san felt that his students were facing many unforeseen difficulties in life. He believes that many young people in Japan move to the big city to follow their dreams, only to become trapped in a life of hardship. It is to these kind of people that he offers the following words of encouragement: "If you want to change your living environment but lack the courage to do so, just go for it, and you might surprise yourself with how it turns out. I myself have done it. While it may not make you rich, it will probably give you a sensible and satisfactory life."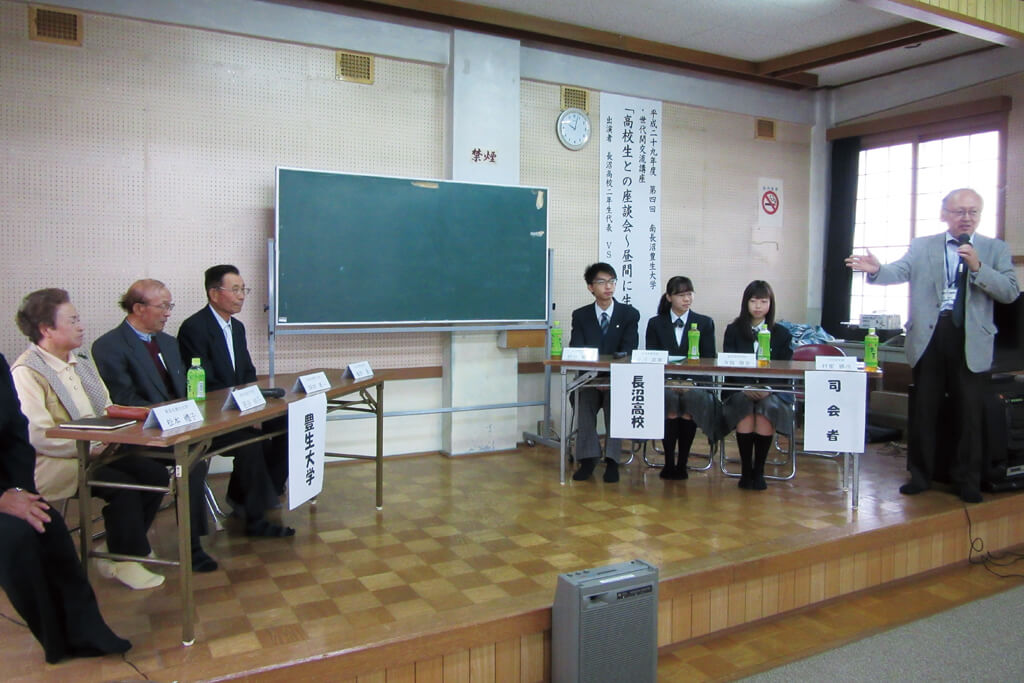 One of the programs organized by Murashige-san for the Hosei Daigaku was a panel discussion between the town's senior citizens and high school students.
Thinking about the next stage while gaining new experiences
One Murashige-san's ideas for the future is creating a private enterprise that offers advice and consultation opportunities to people who are not satisfied with their current life and are thinking of moving to Hokkaido. This was born out of his own experience looking for a house and job as a domestic migrant. He realized that government consultation offices were understaffed, and provision of follow-up services to actual migrants was necessary. So he is thinking of creating a place that can share information and provide advisory support to people on trial stay programs or those who have just moved in, making use of his experience both as a teacher and a previous migrant.
Even in his work handling educational courses for seniors and after-school programs for children, his basic motivation is the same. He wants to create an environment where anyone can live a fulfilling life with as little hardship as possible.
Murashige-san recounts, "I was lucky to have the title of Regional Revitalization Cooperation Corps, as it allowed me to easily make connections with the local people. But for someone who is starting from scratch, getting used to an unknown place with unfamiliar people is no easy task. Which is why I want to offer my help."
The importance of cultivating the courage to choose
Murashige-san wants the young people of Japan to have the courage to decide what they want for their own lives. The high school where he taught at before moving to Hokkaido implemented a credit-based system where students choose the subjects they want to learn. Though it's a rare kind of curriculum in Japan, he believes that it is the ideal environment for cultivating critical thinking skills.
With regards to the skill of choosing what you want for your own life, Murashige-san believes that the sooner you learn it, the better. Yukinosato Jiyugaoka Gakuen, a private elementary school operator that is looking to build a school in Naganuma Town, implements a curriculum where students have the freedom to choose, and Murashige-san fully supports their principles. He believes that the ability to decide on your own what you want and what you should do is something even young children should learn.