Hidetaka and Noriko Tsuboi
Tsuboi Hidetaka,Noriko
Hidetaka Tsuboi was born Kurashiki City, Okayama Prefecture, while his wife Noriko was born in Tomakomai City, Hokkaido. The two of them met during their university years in Kyoto. After working as employees for 5 years, they decided to move to Hokkaido to fulfill Hidetaka's dream of becoming a farmer. After a 2-year training period, they were able to start their own farm in Naganuma in 2014.
Fulfilling a dream of becoming a farmer in Hokkaido
With 15 vinyl greenhouses in their farm grounds, the Tsuboi Farm in Naganuma Town produces a variety of vegetables, including their main produce of cucumber, for which they can harvest around 5,000 to 8,000 in a single day. But Hidetaka and Noriko Tsuboi weren't always farmers. Before they could start running their farm in earnest, they had to learn a lot from their seniors in the town. Of course, their diligence and proactivity was a big plus.
When Hidetaka was searching for farming opportunities in Hokkaido, he came upon Oshitani Farm, which had started a new farming business in Naganuma Town several years earlier. They decided to learn under the owner Yukihiko Oshitani, who taught them that farming is no walk in the park. For 2 years, the Tsubois learned the ins and outs of farming, including greenhouse construction and farming subsidy matters. It proved to be a big help, as they were able to build 4 greenhouses in their first year on their own farm, eventually expanding it to 15 during their third year in business.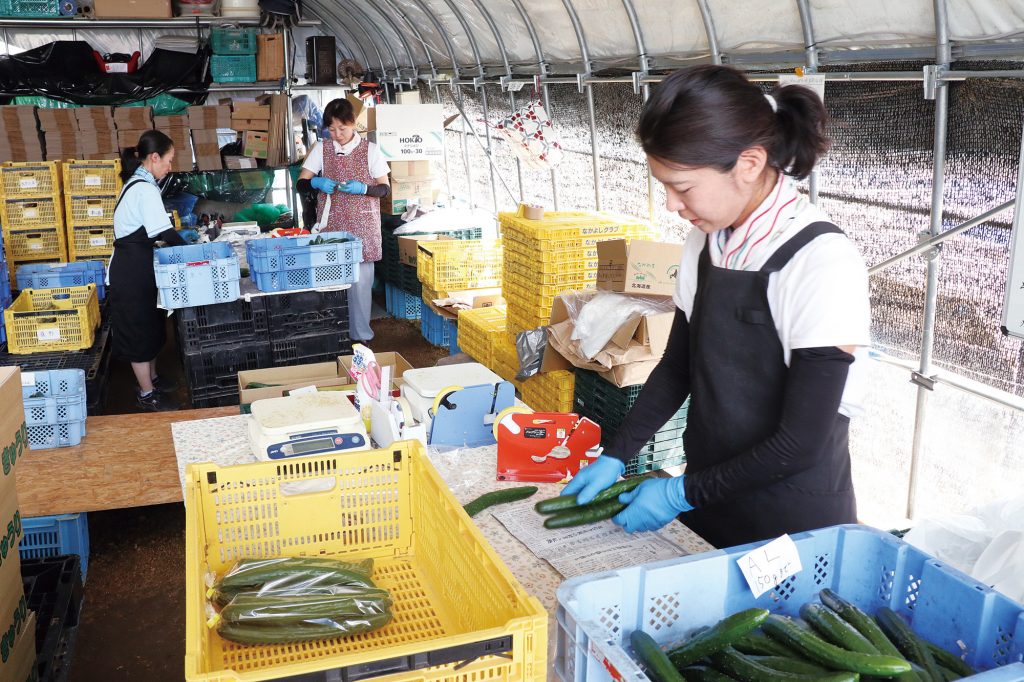 Getting by with the help of the Naganuma townsfolk and services
The Tsubois didn't plan on doing cucumber farming at first. It was suggested by a woman whom the couple lovingly consider as their mother in the town. As the head of a group of 10 different farms, she knew that cucumbers had good profitability and was suitable for new farmers. Even so, harvesting 8,000 cucumbers a day is no easy task for just two people. It was particularly exhausting for Noriko, who had to balance farm work with raising their children.
Noriko's tough daily schedule usually went like this: Wake up at 4:30 in the morning to do the first harvest of the day, go back home to prepare breakfast, send the kids to nursery school, go back to the farm for sorting work, do the second harvest of the day, pick up the kids, then prepare dinner. She probably wouldn't have lasted without the help of some friends at the town. When she was still new, she visited the town's child care support center often, and it was there where she met other women who would eventually help her at the farm. Noriko is also thankful for Naganuma Town's child-rearing services, which allows her to take her children to a pediatric clinic while paying next to nothing.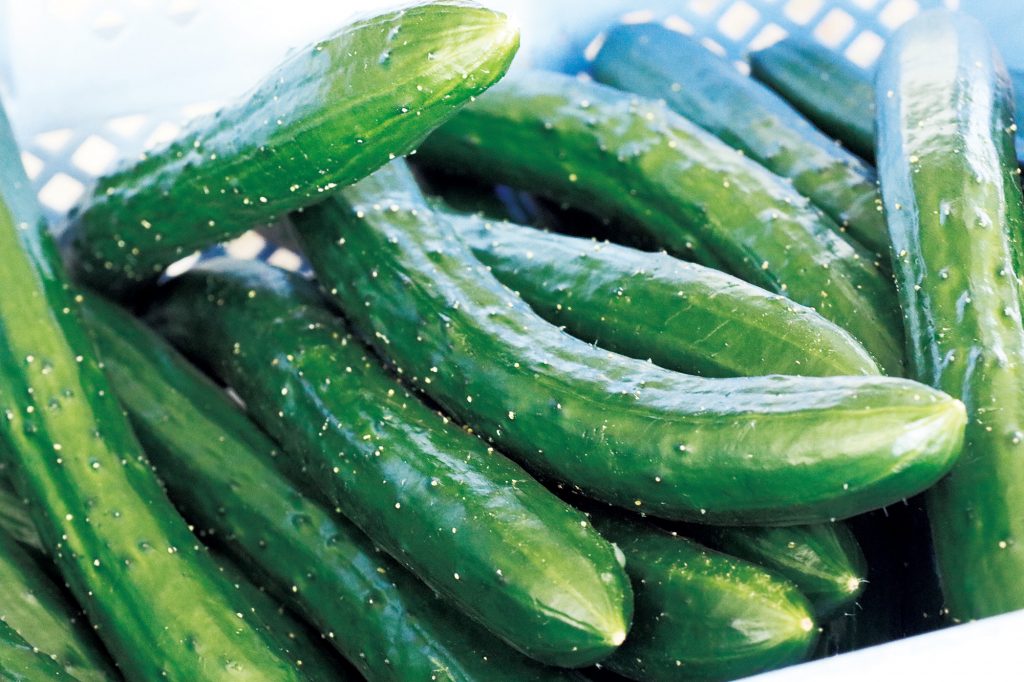 The next dream: Building a home with a guesthouse
The Tsubois and their three children currently live in an old house built over 50 years ago. When they first started the farm, the house was dilapidated and the grounds were overgrown. It was so bad that Noriko had reservations about living there, until Hidetaka decided to renovate the place himself. These days, Hidetaka dreams of building a new home with an attached guesthouse for his wife, since Noriko granted him his wish of becoming a farmer in Hokkaido. He says he hopes to finish it before the kids finish elementary school, but with their proven diligence and hard work, that day is probably not too far away.
Naganuma Town continues to attract people looking to start a farm in Hokkaido. There was even a young man from Osaka who expressed such a dream when he worked part-time in Tsuboi Farm. He and many others surely feel something special in Naganuma. It may just be the kindness and generosity of the older townsfolk, and the commitment and dedication shown by the new farmers in the town.